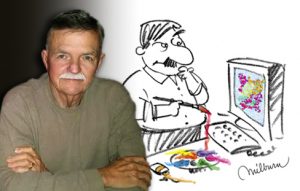 Milburn Taylor, a native Texan from the Dallas/Fort Worth area, is an advertising design graduate of the University of North Texas in Denton, Texas and the Art Center College of Design in Los Angeles, California (now in Pasadena, California).
Milburn held a variety of creative positions at nationally recognized advertising agencies and design studios before starting Milburn Taylor Associates/Creative Services in Fort Worth, Texas (1978). In 1981 he moved his family and aspirations to Austin, Texas where he opened as Milburn Creative, an illustration, design, promotion and consulting studio.
A few years later he created HumorGraphics to specialize in promotional products and gifts featuring cartoon art and fun illustrations that deliver fun and effective sales messages.
In 2021 Milburn narrowed his business focus to illustration and design, but he's also developing other fun ventures—so stay tuned!

Personal history…
Growing up in the family upholstery business, Milburn learned to appreciate the struggles of small, mom and pop businesses, and has a special place in his heart for them. His clients include advertising agencies, public relations firms, banks, real estate companies, chambers of commerce, as well as national and international companies.
Milburn's work is highly personalized, and this helps clients build strong personal relationships with their clients and customers. He strives to add warmth and personality to a client's marketing materials with the firm belief that "People like doing business with people they like."
On the lighter side of business…
"A picture is worth 1000 words." It's true! And sometimes using Lighthearted and Fun Illustrations is the best way to make your point. Milburn's friendly style of art is a great way to get your message noticed, remembered and acted on! It can also be one of the best ways to "Win Friends and Influence Customers."
If you want to Say it! Sell it! Promote it! with a touch of humor, contact Milburn.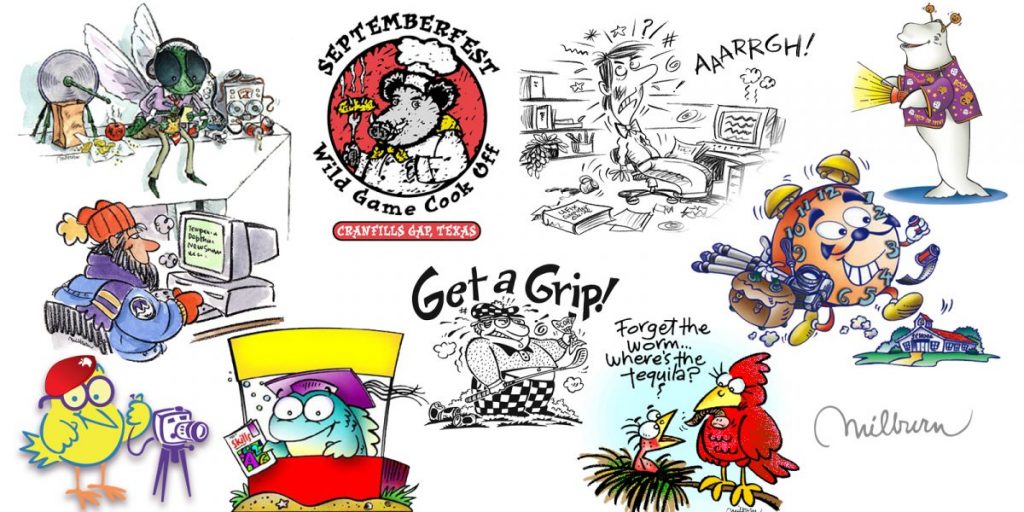 A unique perspective…
Milburn and his wife, Ruth, a Marketing Professor, at Texas State University, have had the privilege of traveling throughout the United States, Canada, China, Japan, Mexico, England, Sweden, much of Europe, Morocco, Costa Rica, Peru, Ecuador, Guatemala, and most recently Oaxaca, Mexico. These travels have given him an appreciation for different cultures, and this helps in his approach to illustration and design.
On the personal side…
Milburn is a member of the National Cartoonist's Society, and a founding member of the National Cartoonists Society/Texas Chapter. He has served as Vice-Chair and webmaster since the chapter formed in November 2014. He also designed the Texas Cartoonists logo.
Click on the logos below to visit the National Cartoonists Society and The Texas Cartoonists websites: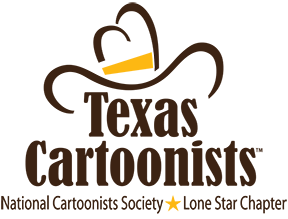 Milburn is an avid "wannabe" fly fisherman, and after 10+ years, is still an absolute novice. But he loves the sport anyway!