HumorGraphics represents a growing list of illustrators and cartoonists who will work with you on an as-needed contract basis. Many times clients will simply say, "I want to do something fun to get our message across," but they don't have a clue where to go from there. This is the time to contact Milburn at HumorGraphics!
Throughout his career Milburn Taylor has worked with clients, developed ideas, art and design to meet their marketing and communication goals. To work with other cartoonists and illustrators has been a long term goal, and now HumorGraphics includes other cartoonists and illustrators. Our goal is to help clients accomplish their goals by offering a broader selection of talent. 
Pricing is determined by each individual artist, and will fit almost any budget. Please use our contact form to let us know how we can help you.
CURRENT CARTOONISTS & ILLUSTRATORS:
Milburn Taylor
Milburn is the Proprietor & Creative Director for HumorGraphics. His advertising design and promotion background gives him an excellent insight into understanding your marketing and communication needs. As one of the artists with his own fun and friendly style, Milburn's lighthearted illustrations are designed to deliver serious messages with "a touch of humor."
Below: Illustration for Time-Warner Christmas website "splash page" and greeting card-Austin, TX.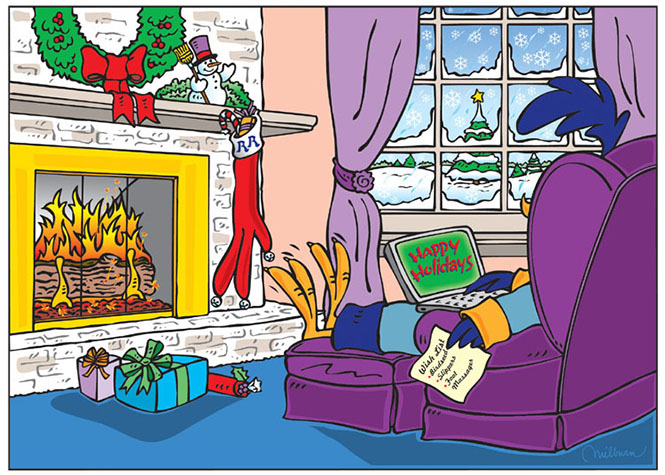 To visit Milburn's website and see more of his fun illustrations, click here.
---
Click on the artist's name below to see samples of their work.
A talented and "Indie" cartoon artist with a distinctive style!

In addition to his "Indie Comic" drawing style (an excellent choice for album covers, posters, t-shirts and more!) Miggy is also an accomplished caricaturist, and works in several styles. His passion is to create art and flyers for bands and rock and roll groups, and he enjoys helping clients with fun and unique illustrations

Jesse is a fun-loving multi-talented cartoonist who works in a colorful, whimsical, and refreshing style. You can also find his work on Instagram.

Dick is a gifted political cartoonist and illustrator with a wonderful sense of humor. His distinctive style makes him a good choice for a variety of assignments.

Michael is a retired South African freedom fighter, culture warrior, Shakespeare scholar, college professor, journalist, editor and author, all squeezed into one little cartoonist. Having this kind of background, his political statements truly commands attention! Michael's art is perfect for political messages and promotional products, especially for progressive causes.

Kevin draws fun caricatures for parties and events, cartoon maps, creates collectible artwork, and has many print-on-demand products available.


Alejandro is an internationally loved and respected "social cartoonist" who draws about life's everyday situations. His observations can be criticism, reflection, humor, and education. His playful work brings a smile to anyone who has seen his work in animation, books, motivational posters, hotel, hospital and shopping center walls, as well as art exhibits in Spain and Mexico. His humor has universal appeal.

Jerry is retired industrial psychologist, novelist, and cartoonist He creates clever and sophisticated cartoons for a variety of publications that are fresh, friendly and spontaneous—Jerry's work is a perfect choice for many reasons.
Thanks for visiting HumorGraphics! Check back often to watch for work by new artists as they join our group
Think HumorGraphics for FUN & EFFECTIVE communications!